In recent times, students are far from understanding the concepts that are present in the daily market. Students who spend most of their time in schools or colleges are taught concepts from books. They are completely focused on theoretical learning and very few are understanding the concept of practical learning. Due to this, most young minds have been fixed to the rat race mentality, which is studying for the sake of marks instead of gaining knowledge. In the long run, not having enough hands-on experience and practical knowledge is affecting the student's growth.
Imagine having a classroom with the latest technologies and industrial products, students working with them, and getting awareness of the changing technologies. They can adapt faster comparatively and will be strong in their fundamentals creating a wonderful dream career.
EDODWAJA – The Real Education
To bring that idea, we, Edodwaja  https://edodwaja.com/ have come up with a solution, i.e, "Lab on Wheels". Our idea is to provide students with practical hands-on experience with all the latest technologies in a mobile vehicle. We would like to ignite the spark in the student's life to achieve their goals, by providing the practical teachings of the latest technologies with hands-on experience.
Our mobile vehicle is designed to be a smart classroom for the students where they find multiple types of technological products of various emerging technologies like Virtual Reality, Augmented Reality, Automated Humanoid Robots, Drones, Internet of Things projects, and many more. Our mobile vehicle will visit the educational institutes and schools, where we will be conducting our workshops. Through, LAB ON WHEELS, we come forward with 'Innovate Urself, Design Urself, and Recreate Urself' programs for the students.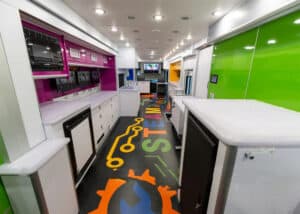 LAB ON WHEELS EDODWAJA (Work in Progress)
The Mission of Edodwaja through this LAB ON WHEELS program is to help all the school students by allowing them to choose for themselves by creating an understandable and practical environment based on present and future technologies.
To guide toward their future by bringing out their inner talents and giving them a practical hands-on experience to let them know the importance of their choice which in turn become a dream for the young students.
To motivate students and support them in every aspect to reach their career goals.
Along with our idea, LAB ON WHEELS, we are also providing a mobile application. Our method of approach toward students focuses on problem-solving, critical thinking, Competitive based learning, Fun learning, Collaborative learning, and Hands-on learning. This type of approach allows the students to interact and clarify all their queries on the particular technologies. It helps them to think out of the box and generates curiosity to work with the latest technologies. To bring out the creativity of students, we at Edodwaja will conduct hackathons and inter-school competitions which increases the sportiveness among students.
Many of you might think, what are the benefits of this program for the students? Till now, we understood the importance of practical education and how Edodwaja is providing practical education to students. The students joining our programs can practically learn the concepts. They will be able to gain hands-on experience with technological products. They will gain support from Edodwaja in every aspect of their journey, we guide them toward their dream careers.
https://realeducation.edodwaja.com/
Edodwaja is not just a teaching platform, it is a place where you can dream, strive and achieve your goals.